Bleach will not spoil my fun!
So as I was scrubbing down my kitchen with some bleach for its weekly run down, I happened to get some on my BLACK TANK TOP. It's really not that big of a deal because it's an old tank, but still! So, I came up with an idea....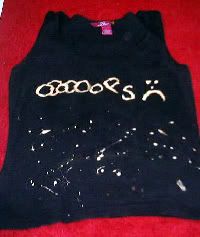 hehe...I added some of those splatters at the bottom :-)
In other news, continental knitting is not a fan of me and I must say the feeling is becoming mutual. I know that it will just take some time but...rawr. my sts are coming out all twisted and business. Not fun!
I have all of this yarn (see photo below please) and I think that I want to make a fitted cardigan with it with three quarter length sleeves--I think that if I do it on huge needles (13's or so?) theat I'll have enough yarn. I also just cant make it too long...hmm. Ideas or suggestions for patterns?